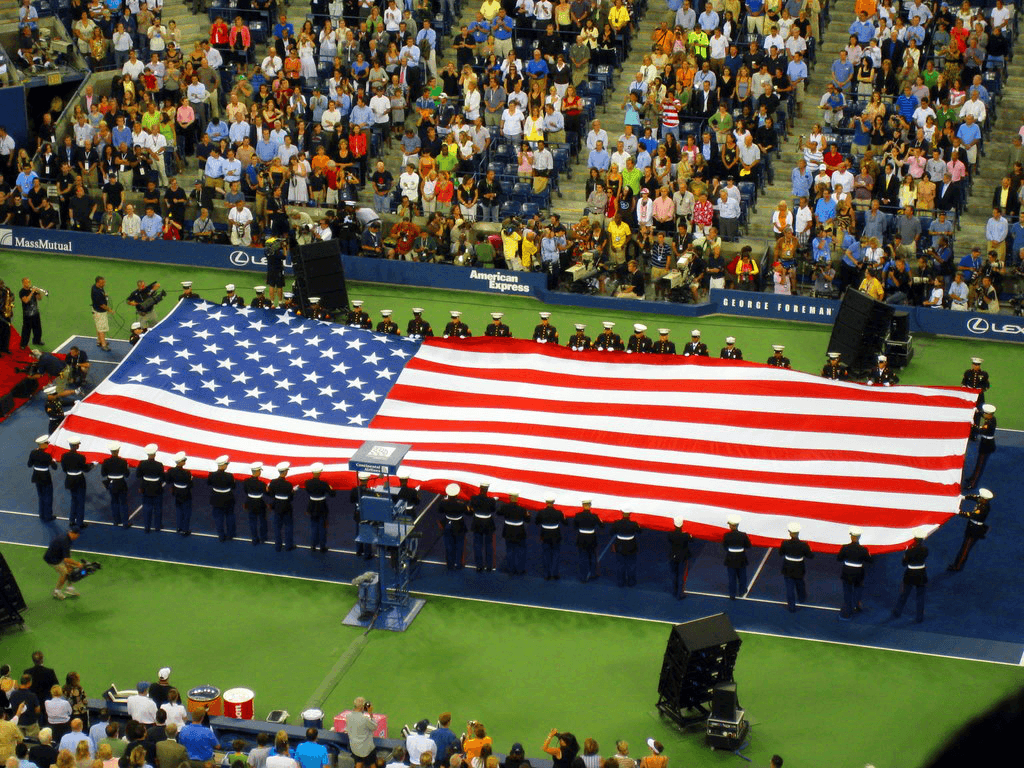 US Flag made for US Tennis Open sports event by National Flag and Display in NYC
Flags and Flag Banners manufactured by National Flag and Display in NYC.
Flags & Pennants – Custom Made To Order – Any Size. We also Rent Flags, All Sizes and on Short and Long Term Basis.
National Flag & Display Co., Inc. is a leading, professionally managed and family-owned global flag manufacturer. Our state-of-the-art, high-volume, domestic facilities produce superior quality custom flags and pennants and stock flags in every size, color, and format imaginable, including huge building flags; and fabrics including Polyester Poplin and 200 Denier Nylon. National Flag's huge inventory and impressive production capabilities mean immediate shipment to any destination worldwide.
With our ability to overcome any logistical obstacle, National Flag has attracted a myriad of clients, including U.S. federal and state governments, foreign countries, the United Nations, and other non-profit organizations. Our international flags grace every United Nations peacekeeping mission in the world and line the facades of such New York landmarks as the St. Regis Hotel, the Waldorf Astoria Hotel and Rockefeller Center. When Macau and Hong Kong came under new government rule, National Flag was entrusted to produce the official flags for their historic ceremonies. On the corporate level, National Flag's project managers are regularly called upon to help firms integrate flags into their special events and branding initiatives.
Again and again, international companies in the advertising, entertainment, real estate, and lodging industries rely on National Flag because of our experience and production know-how.
Our flags and accessories, including indoor presentation sets, are available for purchase or rent, and we can quickly produce flags for any special event. Our tremendous inventory of ready-made flags, as well as banner stands and pipe and drape, enables National Flag to supply flags, on a moment's notice and on an as-needed rental basis, for TV, film, hotel conferences, corporate meetings, government functions, and celebrations.
Our custom-made flags and pennants enhance every event, every time, on time, and on budget.
Pride Flags – all shapes and sizes are available.
Call now for a fast quote on Flags and Flag Banners at 212-462-4000, or use our quick contact form.
National Flag & Display
22 West 21st Street
New York, NY 10010
T: 212.462.4000
F: 212.462.2624
Custom Flag Manufacturing and Printing:
Flag Shapes:
Rectangle Flags
Horizontal Flags
Vertical Flags
Square Flags
Triangle Flags
Double Pennant Flags
Fanion Flags
Burgee Flags
Swallowtail and Tongue Flags
Swallowtail Flags
Unique Shape Flags
Banner Flags
Pennant Flags
Streamer Flags
Wind Sock Flags
Gonfalon Flags
Advertising Flags:
American Flags
Avenue Banner Flags
Boutique Flag
Building Flags
Business Flag
Corporate Logo Flags
Feather Flags
Flagpole Flags
Flutter Flags
Fringe Flags
Fundraiser Flags
Garden Flags
Golf Flags
International Flags
ISO QS Flags
LGBT Flags
Military Flags
Miniature Flags
Pennant Flags
Pole Flags
POW MIA Armed Forces
Pride Flags
Sports Flags
State Flag
Stick Flags
Flags in Stock:
International Flags
Country Flags
American Flags
National Flags
National Flag's banners are perfect for underscoring the significance of your special event or corporate campaigning, including:
Press conferences
Meetings and conventions
Corporate identity programs
Advertising campaigns
Product introductions
Corporate mergers and acquisitions
Stock market listings
Movie premieres
Political events
Gala dinners
Live performances
Athletic events
Awards ceremonies